DUALCLIMA 8400H
2,40 kW (8200 BTU)
2,45 kW (8300 BTU)
Gas R407C
PROGRAMMABLE TIMER
LOW-PROFILE DIFFUSER WITH LED LIGHTING
TROPICA TILL 55°C
230 Volt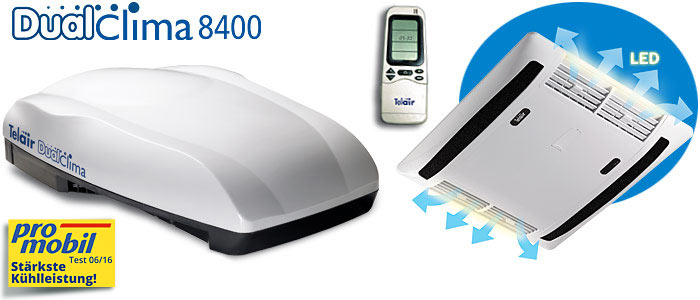 Extra-flat diffuser with sloping profile on all 4 sides.
Direction-adjustable front and rear air outlets (horizontal and vertical).
Automatic Air Conditioner with heat pump
Monoblock conditioner specially designed to be installed on the roofs of medium- to large-sized motorhomes and caravans.
Special care has been taken to ensure LOW NOISE both inside and outside.
HEAT PUMP 
High-Efficiency Heat Pump heating supplies 2.4 kW heating power with only 0.92 kW consumption.
The heat pump is effective for outside temperatures down to +4°C; below this temperature, its efficiency is considerably reduced.
AUTOMATIC CONTROL 
By activating the AUTO function, the air conditioner selects the most suitable ventilation speed, and the cooling or heating function automatically.
REMOTE CONTROL
with a programmable timer and ON/OFF Switch for the Diffuser Light.
Anti-ice protection PROBES
INTERNAL FILTERS can be changed and washed.
Suitable for roofs having thickness from 30 to 70 mm
Technical features
DUALCLIMA 8400H
Refrigerating yield
8.400 BTU
2,46 kW
Heater Heat Pump
8.500 BTU
2,50kW
Ventilation speeds
3 + AUTO
Power supply
230 V 50 Hz
Absorbed average current
4,1 A
4,2 A
Starting current
18 A
(0,15 sec.)
Inlet power
900 W
920 W
Required generator
2200 W
Maximum air flow rate
480 m3/h
Weight
35 Kg
Dimensions
23,9x98x65 cm
Air diffuser height
4,9 cm
Remote control with programmable timer
Suitable for vehicles