ENERGY 2510 D
ENERGY 4010 D
Diesel
OPTION
ASP
automatic starter control panel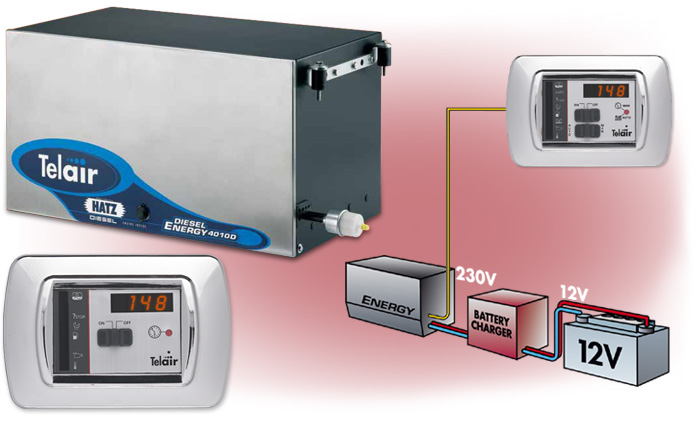 Low-consumption diesel fuel generators
GENERATOR with DIESEL engine for extra-low consumption.
It can be installed by directly connecting it to the DIESEL truck tank, thus making any auxiliary tank unnecessary.
Placed in a double sound-proofed metal casing, it is equipped with a fully automatic electronic starter system with remote control panel and a 5 metre long cable, including: total and partial hour counter, over heating, oil and fuel level indicator lights.
Technical features
ENERGY 2510 D
ENERGY 4010 D
Engine
HATZ
1B20 V
HATZ
1B30 V
2 poles alternator
Synchron
Synchron
Max. power output
2,2 KW - 230V
5,0 A /12Vdc
3,4 KW - 230V
5,0 A /12Vdc
Frequency
50 Hz
50 Hz
Starting
Electric
Electric
Noise level
63 dBA (7m)
66 dBA (7m)
Max Consumption
0,7 Lt/h
0,9 Lt/h
Dimensions
38x66x41 cm
39x69x41 cm
Weight
98 kg
110 kg