TIG-3000 D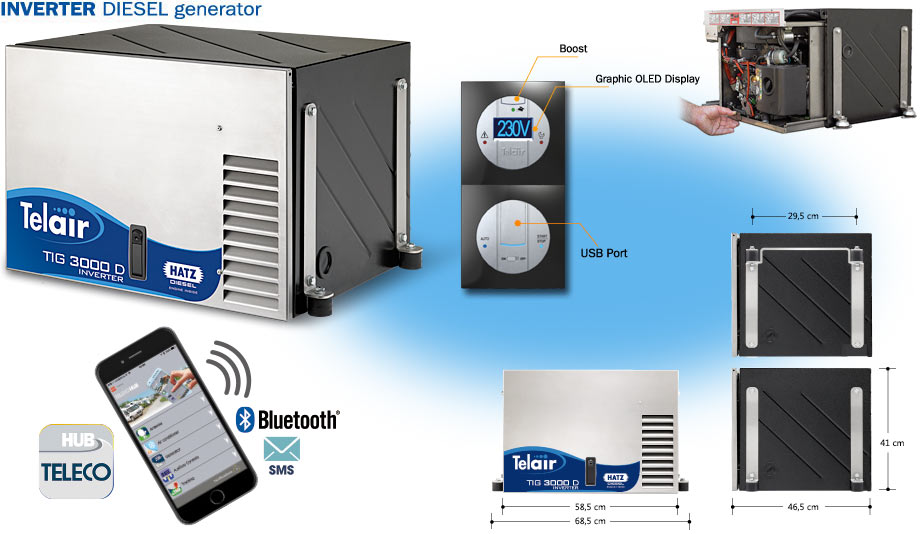 TIG-3000 D diesel engine
The TIG 3000D is a new generation 230 Vac inverter generator powered by a diesel engine.
The rotation speed is commanded by a newly developed electronic variable speed system which functions with an extremely low noise level as well as greatly reduced average diesel consumption. Inverter technology provides a very stable flow of power by pure sine wave and it also makes it possible to connect two generators in parallel, thus doubling the power provided.
The contemporary design remote control panel with its graphic display provides the user with full information regarding the functioning of the generator. Oil level checks, running temperature and power consumption with automatic engine cut-off if the values do not correspond with standard values.
The generator can be set to MANUAL mode or AUTOMATIC (if it's also used as a battery charger) and it's also fitted with a BOOST button which can be used when a temporary increase of power for a very high electric charge is needed.
It also has a special interface which in future will make it possible to use the new Teleco-Hub app to switch on and off and control the generator remotely using an iOS or Android smartphone.
Technical features

TIG-3000 D

Engine
HATZ 1B20 V
Rotation speed
2400 - 3200 rpm
Max. power output
2,90Kw - 230V
10A /13,3Vdc
Frequency
Distortion
50 Hz
1%
Starting
Electric
Noise level
56-59 dBA (7m)
Max Consumption
0,9 Lt/h diesel
Dimensions
41x58,5x46,5 cm
Weight
87 kg