WING 22
Omni-directional Antennas for Digital Terrestrial Signals
The Wing 22 antenna series has been designed to receive all signals.
Special care has been devoted to designing a highly aerodynamic shape: these antennas can be installed on the fastest campers.
Each antenna has a special, ergonomic foot to allow the antenna to be positioned in any direction and facilitate installation on even the most streamlined roofs of the latest-generations campers and caravans.

Rotation on 3 axes for perfect alignment with the roof makes it easy to install even on the streamlined roofs of latest generation motorhomes and caravans.
Equipped with LTE Suppressor Filter to eliminate any disturbances caused by new 4G Smartphones. (Only for countries that have already incorporated LTE transmissions in the 800 MHz band).
TECHNICAL DATA
Gain with Amplifier:
CH 2-4 8 dB
CH 5-12 22 dB
CH 21-69 28 dB
Power supply: 12/24 Volt - 230 Volt
Diameter: 38 - 88 cm
Height: 16,5 cm
Weight: 1,4 Kg
PACKAGE CONTENTS
1 Antenna, complete with 5 m coax cable and 3 F connectors
1 Adjustable gain amplifier, with 2 outlets for 2 TV sets, powered off 12, 24 and 230 Volts
26 dB UHF - 22 dB VHF- B3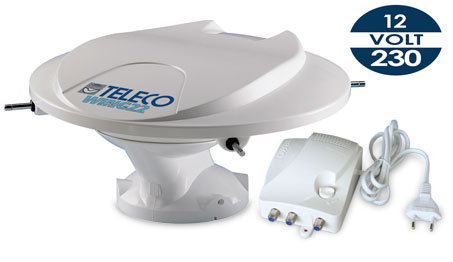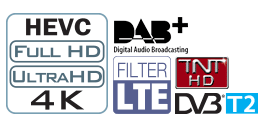 This DUAL POWER antenna is the result of the combination of two antennas: excellent performance is guaranteed also for the lowest-frequency programs (VHF - B3).
Extremely weak signals can be received thanks to a low-noise amplifier.
Horizontal reception diagram