ACTIVSAT SMART
Portable Fully Automatic Satellite System
You can park your Caravan or Motor home under the shade of a tree and install your Automatic system anywhere you like.
Just bring and open the Tripod , fit on the top of it the Motor Unit , slide-in your dish and connect your cable ( 15 mt) to the external Activsat Socket on the vehicle Very Quick and Easy installation , no tools are needed.
Point the satellite in a second ,with your Smartphone via Bluetooth or just pushing a button in the control box inside of your caravan or van.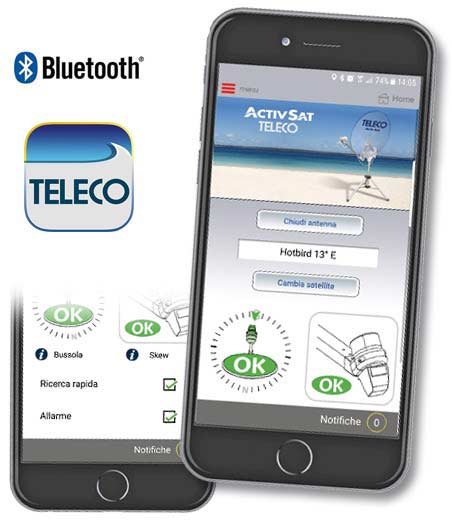 You can easily select between 2 Modes of Search :
Quick Search ( the dish limit the research just to 120° and, in addition to be much more fast, it save 70 % of energy from the battery).
To use the Quick Search you have to point, for first, the dish in South Direction , using the Compass supplied.
If you cannot find the South Direction , you can switch OFF the Quick Search and the system will do automatically the Total Search (360°).
Every time ACTIVSAT point a satellite , this position is put in the memory of the system, to reduce still more the time of the next research.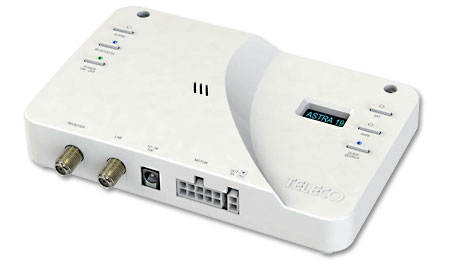 Indoor Unit with very Attractive Design ,small size and with:
16 satellites in Memory
Graphic OLED Display in Blue color with Cristal view
Sat Button /Quick Search Button / Park Button
Bluetooth on board, to drive the ACTIVSAT just with your Smartphone
Alarm ,with very loud beeper( 91 dB) inside and switch ON-OFF
Additional Alarm output, to connect to an external very powerful Siren or to an external Light
Power Switch ON-OFF
Software Update immediate, via Bluetooth with your Smartphone
Double Antitheft Alarm:
if somebody cut the cable, the Indoor Unit send a very loud beeper and switch ON a light (Optional)
The outdoor unit antenna is strictly matched to his indoor controller through the Serial Number. All the SN are in a Factory Data Base and, if somebody steals the outdoor unit , he cannot have a new Indoor controller without to give the SN of the Outdoor unit and his name.
SE110 - EXTERNAL SIREN (optional, not supplied)
12 Vdc - 110 dB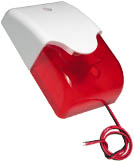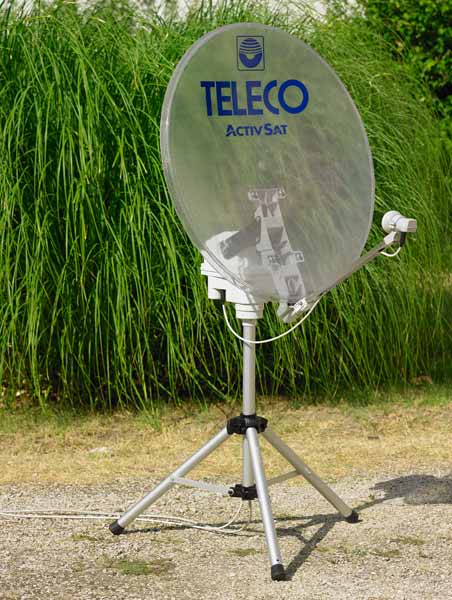 Three Different satellite antennas:
Transparent Acrylic Dish 85 cm , low view impact
Transparent Acrylic Dish 65 cm , low view impact
Square Flat Antenna 53X53 cm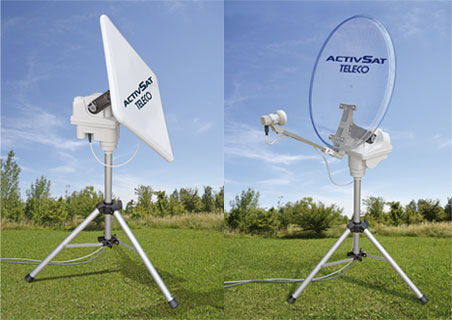 Five Models available:
ACTIVSAT 85 Kg 10,40
ACTIVSAT 85T Twin Kg 10,40
ACTIVSAT 65 Kg 8,50
ACTIVSAT 65T Twin Kg 8,50
ACTIVSAT 53SQ Kg 10,50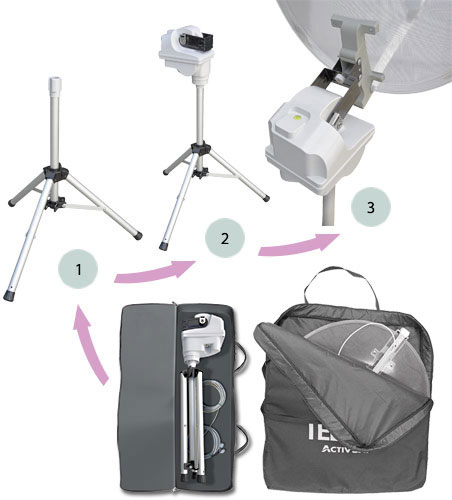 Easy to store and to carry with 2 strong transport bags: one for the dish and one for the Outdoor unit with Tripod and cable

Tripod bag
Dish bag Ø 65
Dish bag Ø 85
Square antenna bag
EXTERNAL SOCKET FOR ACTIVSAT (optional)
SPECIFICATIONS
Material: ABS
Colour: white outside, black inside
INPUTS
- connector for 10-pole ActivSat motor cable
- F connector for ActivSat coaxial cable
- F connector for second coaxial cable (ActivSat Twin)
- F connector for coaxial cable for external TV
- 12 V DC universal socket (Max 10 A) with rubber cover and Faston terminals for external TV power supply
AVAILABLE MODELS
• PAS/W - ActivSat Westacc socket
• PAS/F - ActivSat Fawo socket