FlatSat Skew Easy SMART
SKEW Automatic Satellite Antenna
SKEW: Automatic satellite alignment system with ultra-precise adjustment of the optimal LNB reception angle thanks to a built-in GPS module. While at the centre of the Footprint the best reception is achieved with the LNB positioned horizontally, at the South Eastern and South Western extremities of the Mediterranean area (e.g. Turkey and Morocco) you have to climb up onto the motorhome roof and rotate the LNB ANTICLOCKWISE or CLOCKWISE to obtain the strongest signal. SKEW gives you the best reception even in these areas. By means of the GPS module, SKEW 'knows' its position exactly and so rotates the LNB AUTOMATICALLY into the correct position for the BEST reception of the signal. You have to do absolutely nothing.
SMART: A system with the SMART function 'knows' which channels are broadcast on which satellites. Thanks to this you just have to select or switch to the channel you want and the antenna will point automatically to the correct satellite.
The FlatSat Skew Easy SMART is compatible with all Satellite Receivers and TVs featuring the DiSEqC function (Teleco, Tivùsat, TNT Sat, Fransat, SKY, Canal Digitaal, TV Vlaanderen, Telesat, etc.).
Teleco's jewel in the crown
New intelligent control panel:
By default, the following satellites are stored in memory: Astra 19, Hot Bird, Astra 23, Astra 4, Eutelsat 5W, Astra 28, Thor, Hispasat, Turksat, Internet.
Remote control with just two buttons.
OLED graphical display to show all the operations carried out by the antenna.
The panel is completed with a charcoal-grey frame from the Berker line that can easily be replaced with other diff erent coloured Berker line frames.
Safety system with automatic closing of the antenna when the vehicle is started.


Teleco HUB and CI-BUS interfaces are optional extras. In order to use these functions the vehicle must be fi tted with a Teleco HUB control centre or a CI-BUS system.
FlatSat Skew Easy SMART consists of:
1 External satellite antenna
1 DVB-S2 Control Unit complete with leads
1 Intelligent control panel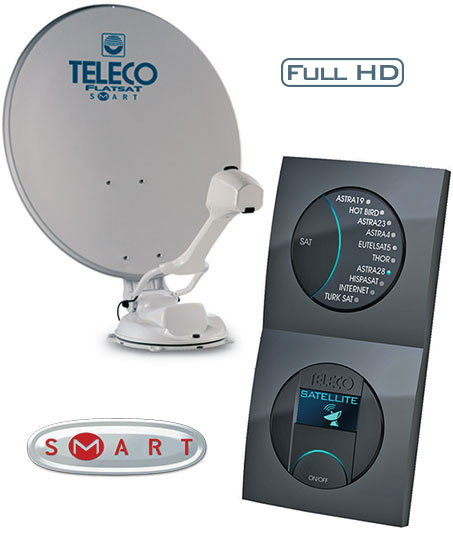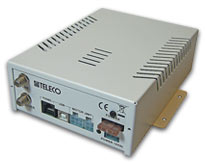 DVB-S2 HD control unit
Power supply: 12 Volt (10-15 Vdc)
Max Consumption: 3,2 A
Size: 136x198x62 mm
Weight: 780 g
AVAILABLE MODELS
DISH SIZE
FlatSat Skew Easy SMART 65


OPTION -

TWIN for 2 receivers
72 x 67 cm
FlatSat Skew Easy SMART 85


OPTION -

TWIN for 2 receivers
91 x 85 cm