MOTOSAT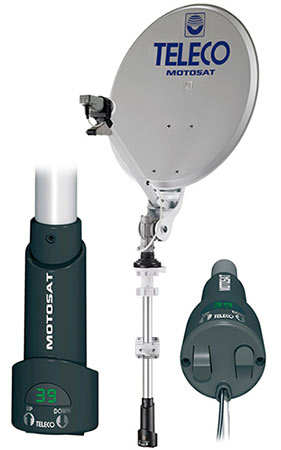 Semiautomatic motordriven satellite antenna
MotoSat is a semiautomatic satellite antenna system fi tted with a 12 Volt electric motor controlled with two buttons (up/down) that signifi cantly eases the raising and lowering of the antenna and also speeds up the process of aligning the dish.
Also incorporated on the control knob is a 2-fi gure display that enables you to see when the dish is tilted correctly.
MotoSat also features a microprocessor that can store the last dish tilt setting.
After having set the inclination, just rotate the dish southward by turning the mast from the inside and adjust the positioning by watching the picture on the screen.
Would you like it to be even easier? Then maybe the MotoSat Digimatic is the one for you.

AVAILABLE MODELS
52 cm long mast
AVAILABLE MODELS
33 cm short mast
MOTOSAT 65:
63,5 x 59 cm Dish Kg 8,0
MOTOSAT SM 65:
63,5 x 59 cm Dish Kg 8,0
MOTOSAT 85:
85 x 78 cm Dish Kg 10,2
MOTOSAT SM 85:
85 x 78 cm Dish Kg 10,2