Gas generators
TG 480
TG 480 MEF
TG 600 MEF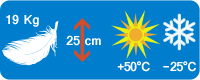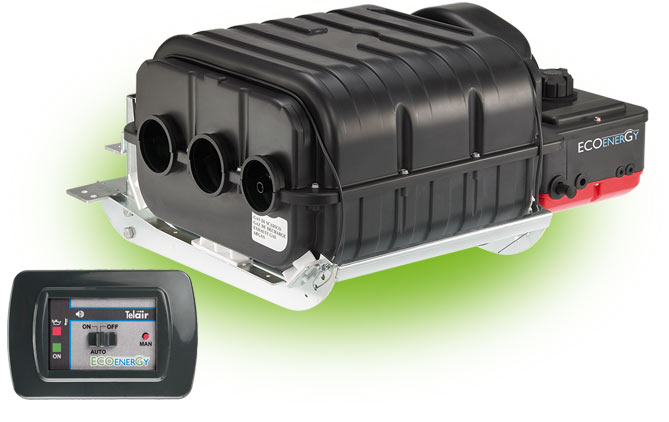 Very powerful: a battery charger with a charge capacity equal to more than double a fuel cell or a 100W solar panel.
Fully automatic: it starts when the battery is running low (11.9V) and stops when it is full (14.5 V).
Quiet: thanks to thick soundproof insulation, there is a very low amount of emitted noise (only 51 dBA (7Mt)) that is almost imperceptible.
Practical and ecological: just connect it to the gas cylinder already present in your motorhome.
Remote control panel.

The ECOENERGY range will make you independent from charging stations - ensuring long range and comfort.
Immediate current output via an inverter allows household appliances such as hair driers, toasters or microwave ovens to be used efficiently as required. You'll be able to enjoy your summer even in + 50°C temperatures as your ECOENERGY ensures maximum comfort without having you worry about battery consumption. The living will be easy in wintertime, too, because ECOENERGY can guarantee a continuous source of power down to temperatures of - 25°C.
Eco-friendly: LPG (or propane gas) operation to ensure compliance with the latest environment protection standards.
Low-noise: the operating noise is extremely low (51dBA only) and muffled: no more complaints from your neighbours!
The "Motor dynamo" system will produce 12V electric energy with an impressive 20 - 25 Amps/hour according to models. No extra tanks needed as the gas bottle already part of your camper equipment will be used. A small-sized, compact, lightweight system - offering ideal, safe solutions for underfloor external installation also in campers with low-floor chassis.
Unrivalled performance when it comes to withstanding countless power on/power off cycles.
Technical features
TG 480
TG 480 MEF
TG 600 MEF
Automatic operation
Start 11,9V
Stop 14,5 V
Start 11,9V
Stop 14,5 V
Start 11,9V
Stop 14,5 V
Working temperature with propane gas
+50°C ÷ -25°C
+50°C ÷ -25°C
+50°C ÷ -25°C
Rated current A/h
20 A/h
(480 A/24h)
20 A/h
(480 A/24h)
25 A/h
(600 A/24h)
LPG gas fuel
30 mBar ± 2
30 mBar ± 2
30 mBar ± 2
Gas Consumption/Hour
270 g/h
270 g/h
290 g/h
Lube oil consumption
1 Lt / 115 h
1 Lt / 115 h
1 Lt / 115 h
LpA 7 m noise level
51 dBA
51 dBA
52 dBA
Weight
19 Kg
19 Kg
19 Kg
Dimensions without brackets
565x380x250 mm
565x380x250 mm
565x380x250 mm
Recommended batteries
160 ÷ 300 Ah
160 ÷ 300 Ah
160 ÷ 300 Ah
Current supply selectable b/w: fixed or variable
-
High altitude operation up to 2300 m
-
Connection cable with control unit
5 mt
5 mt
5 mt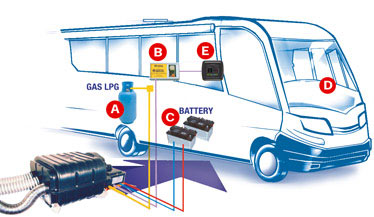 A - Connection to pressure reducer (30 mBar)
B - Electronic control unit
C - Connection to service battery
D - Connection to a key lockable contact (D+) to activate the "safety lock"
E - Control panel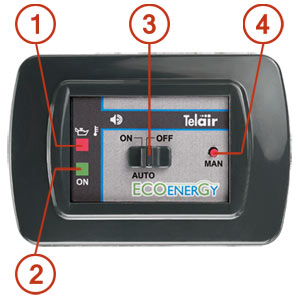 ECOENERGY CONTROL PANEL
1 - High temperature and low oil level indicator light
2 - Working phase indicator light
3 - Automatic Power On and Power Off
4 - Control button for forced manual start.
Used whenever you wish to turn on the ECOENERGY even if battery voltage exceeds the minimum threshold of 11.9 Volt. Once the 14.5 Volt level has been reached, the ECOENERGY will automatically turn off the motor and return to its stand-by condition.
INDICATOR LIGHTS
Red LED: too high working temperature or too low oil level. In both cases, the motor is turned off.
Green LED: it indicates that the motor is operating or is in its start-up phase or the generator is on but on stand-by because the battery is charged.
SAFETY LOCK WITH CONNECTION TO D+
By connecting the electronic control unit safety cable to one of the vehicle terminals D+, you will prevent any accidental generator start with a stationary vehicle as a result of having forgotten the generator on or on stand-by.