FlatSat Skew Elegance 2 SMART

Satellite antenna and TV combination
Basically the Flatsat Elegance is the same as the Flatsat Skew Easy SMART and so features both the SMART and the SKEW functions, the latter rotating the LNB automatically either clockwise or anticlockwise towards the south-eastern or south-western extremities of the footprint. However, it is also supplied with an intelligent Teleco TV (TY2 or TEV) thus eliminating the need for the control panel.
All you have to do is switch on your TELECO television. FlatSat SKEW Elegance SMART does the rest: it switches on the antenna, selects the right satellite, aligns the antenna and delivers the images from the right satellite to the screen. All in just a few seconds. Just use the remote control.
If you change channel the antenna will align itself automatically with the right satellite. When you switch off the TV, the antenna is lowered automatically and the system switches off . All the main satellites are available: Astra 19, Hot Bird, Astra 23, Eutelsat 5W, Astra 4, Astra 28, Thor, Hispasat and Turksat. A safety system immediately closes the antenna and switches off the TV whenever the vehicle engine is started. In addition to the standard remote control provided with the TV, a simplifi ed remote control (optional) with just 8 large buttons is also available, that can carry out most of the functions.
FlastSat Skew Elegance SMART consists of:
1 External satellite antenna
1 DVB-S2 Control Unit complete with leads
1 TY2 or TH2 model TV with integrated satellite receiver and remote control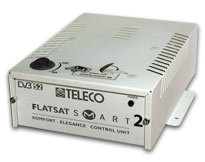 DVB-S2 HD control unit
Power supply: 12 Volt (10-15 Vdc)
Max Consumption: 3,2 A
Size: 136x198x62 mm
Weight: 980 g
AVAILABLE MODELS
DISH SIZE
FlatSat Skew Elegance 2 SMART 65


OPTION -

TWIN for 2 receivers
72 x 67 cm
FlatSat Skew Elegance 2 SMART 85


OPTION -

TWIN for 2 receivers
91 x 85 cm